Our daily lives have become more and more modern. Ironically, social media, working from home are also very stressful situations that leave us exhausted and without energy. Even the idea of planning a vacation can be overwhelming: running around the airport, packing your bags, organizing the activities to be done… all this makes us return home with the feeling of needing vacation from the holidays.
If you identify with this, and really need a break in your everyday activities to regain your energy, rest and reflect on the current moment in your life, a yoga retreat is the answer you are looking for.

Food and hosting
Today, on the Guaycura blog we will tell you the benefits of an all-inclusive yoga retreat in one of the most wonderful places in Mexico.
By going to an all-inclusive yoga retreat you can not worry about the most stressful thing when you go on vacation: food and lodging, and all you have to do is focus on yourself. This will allow you to continue advancing in your practice, progressing little by little to increase your strength, flexibility and knowledge of your own body.
That is just the main benefit of retirement: momentarily isolating yourself from everything around you to look inward, which you can hardly do in the classes you do in your free time, with an hour a day all week (and sometimes less).
On the other hand, the food served at a yoga retreat is planned to raise the vibrations by omitting junk foods, which inflame your body, so you will enjoy a comprehensive experience, which will help you detoxify your mind and body.
Most common types yoga in retreats
There are many types of yoga retreats, some are urban and last an afternoon so it is not necessary to stay to sleep and can be done away from civilization, noise and in a natural environment, or in the yoga studio with music and an environment conducive to relaxation.
For its part, the all-inclusive yoga retreats are one weekend, one week or even a full month for intensive training, where you can practice silence, fasting and spirituality.
In these retreats different types of yoga are also practiced:
Hatha. It is the basis of yoga styles because it is based on the alignment of the body to reach each posture, making it the ideal type of yoga for beginners, which allows them to reach slow and deep postures.
Vinyasa. It consists of synchronizing the breath with the movement to fluidly and dynamically unite one posture with another, so that meditation becomes movement.
Hatha-Vinyasa. It is a type of yoga in which the elements of both disciplines are combined to have deep, dynamic and rhythmic postures.
Restorative. It is a soft yoga style, which seeks alignment, gain flexibility and recover the range of motion in people who have suffered an injury, who are in the process of recovering from surgery, or for people over 60 who want to continue exercising. It is usually based on hatha yoga and vinyasa to relax the body.
Yin Yoga. They are postures that are maintained for several minutes in order to open and revitalize the body, working at the same time on an emotional level, promoting self-discovery, relaxation and meditation, so it is a spiritual practice.
Ashtanga. It is a type of dynamic yoga, with progressive sequences and movements to develop physical fitness, increase strength, burn calories and tone the whole body.
Power vinyasa. It is a type of advanced yoga, where students move fluidly from one posture to another to incorporate cardio, physical endurance, strength and flexibility.
Dharma. It is a practice derived from vinyasa, where the postures are dynamic, fun and includes breathing, endurance, strength and cardio exercises.
Investments. The inverted postures: standing hands, head, on the forearms, prepare the body to gain flexibility and achieve the postures that are performed in the types of yoga.
Levels yoga in retreats
Yoga retreats are focused on all levels of students, which are:
Level 1. Mild intensity. Yoga retreats for beginners in practice, with little experience or who have an injury that hinders their mobility.
Level 2. Moderate intensity. They are ideal for people who already have a basic notion of yoga or whose physical condition allows them to reach deep postures at a level where they sweat a little and move their body fluidly.
Level 3. Advanced. These retreats are the most sought after by people with experience in the practice of yoga, where they acquire greater strength, physical condition, flexibility and can start in another type of yoga.
Wellness activities and complementary activities in the yoga retreats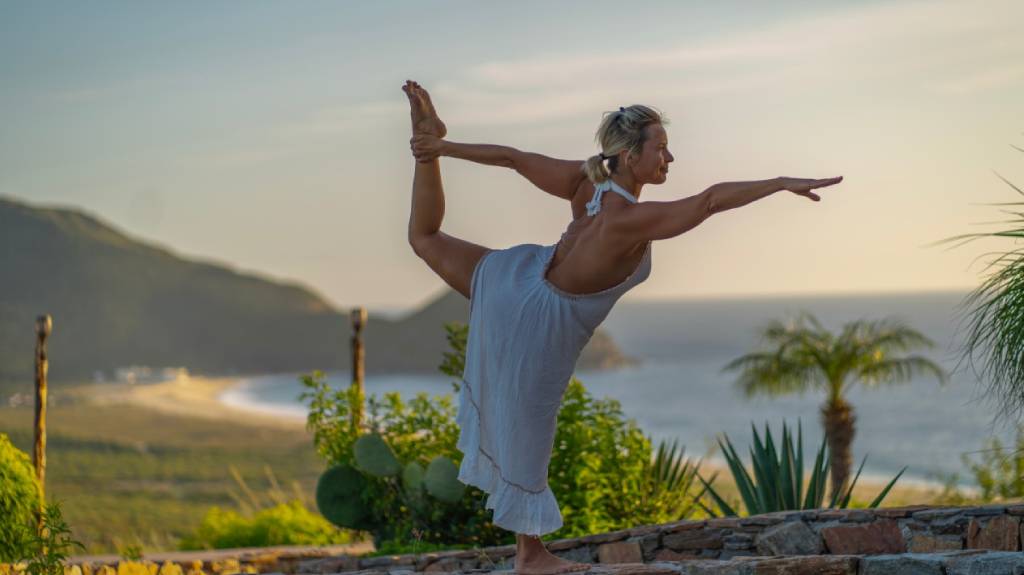 While yoga is the main thing in a retreat, there are other complementary wellness and health practices that can be performed, such as:
Meditation
Alternative therapies such as aromatherapy or acupuncture
Temazcal
Dance
Activities in nature, such as hiking
These activities are usually performed during the day, after the first yoga practice in the morning, in order to have more vitality and predispose the body and mind for relaxation, meditation and night rest.
The food in a yoga retreat is usually vegetarian or vegan because of the principle of "ahimsa" (non-violence towards animals) and because the diet influences vibrations, inflammation of the body and a lifestyle respectful towards other living beings.
In addition, in some yoga retreats activities are carried out to create friendships with the participants, since people related to the ideals and lifestyle are usually found.
Yoga retreats in Los Cabos
Los Cabos, Baja California, Mexico offers the perfect setting for a yoga retreat: the magnificent views, the natural environment in which the beauty of the desert is combined with the sea, makes it the ideal place for relaxation, and if you are looking for the best option, you will find it at Sunrise Yoga with Sebila Kratovac in the rooftop pool of Guaycura Hotel Boutique Beach Club & Spa.
This beautiful boutique hotel is located 50 minutes from the international airport of Los Cabos and 30 minutes from Cabo San Lucas, in the Magical Town of Todos Santos, Baja California Sur, Mexico and is the ideal option for a yoga retreat since here you can stay, take the yoga classes that are part of the hotel services so you will enjoy a natural environment, with beautiful views and the specialized guide of Sebila Kratovac.
In Guaycura you will find a traditional style hotel, located in a historic building of the nineteenth century, beautiful rooms with Mexican decoration, bilingual staff, rooftop terrace with pool, pool bar; In addition, within the Guaycura Group we have the Faro Beach Club & Spa, the Restaurant El Mirador Oceanview and the Sky Lounge that will complement your experience and give that touch of fun to your retirement trip.
Come and live the relaxing experience of a yoga retreat with all the style and fun that you will only find in Guaycura. Make your reservation through the contact form on our website where we will gladly assist you.